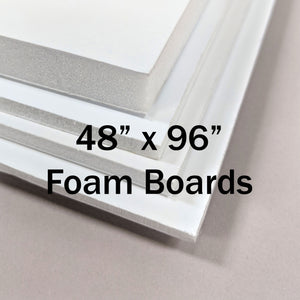 White Foamboards - 48"x96"
Lightweight and easy to move, these foamcore boards are perfect for your office pin board, mood wall, or idea board. These are great for Graphic Recording as well. Also available in black.
Featuring "memory retaining" polystyrene foam with clay-coated paper facers. Made in the USA.
-Memory core resists denting
-Edges remain open when die cut
-Economical alternative to competitive foam boards
Local Delivery Or Curbside Pickup Only - Please Read
Items 24x36" and larger are only available to be shipped using our courier service. When checking out, please choose "Request A Quote for Same Day Shipping" for your delivery option. We will give you a call to approve the shipping charge.
You can view our shipping rates here.