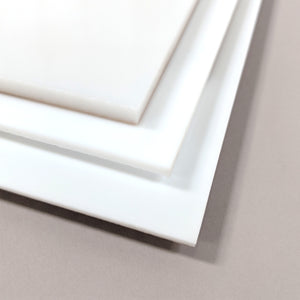 Cast Acrylic in Gloss White for Laser Cutting
Cast Acrylic is a great option for laser cutting or laser engraving. Cast acrylic is ideal for laser engraving because it creates a frosted surface. Cast Acrylic also laser cuts clear then other types of acrylics.
Cast Acrylic is also known as Plexiglass.
We have these available at 16x32" and in three thicknesses; .060 (1/16), .118 (1/8) and .236 (1/4)
We also stock Cast Acrylic in Black and Clear
Local Delivery Or Curbside Pickup Only - Please Read
This item is only available to be shipped using our courier service. When checking out, please choose "Request A Quote for Same Day Shipping" for your delivery option. We will give you a call to approve the shipping charge.
You can view our shipping rates here.