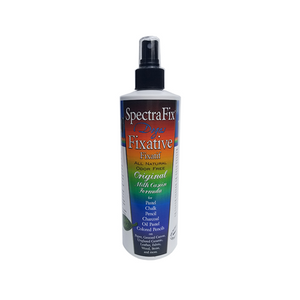 SpectraFix Non-Toxic Fixative
Regular price $16.95 $16.95 Sale
SpectraFix Non-toxic Fixative is made with casein, water and alcohol and is based on an antique recipe used by French Impressionist painter, Edgar Degas. It seals and protects your artwork while leaving your colors brilliant, and best of all.. there are no toxic fumes or odors! Spray indoors and keep right on working at your easel without concern. Perfect for chemically-sensitive people.
Dries quickly to an invisible matte finish and allows deep layering as well as providing extra traction on thickly layered, slippery media such as color pencil or oil pastel. Combines well with almost all media, and dries to a hard, water-resistant finish.
Works on:
Soft Patel
Oil Pastel
Chalk
Conte
Colored Pencil
Graphite
Charcoal
Should not be used as a final top coat over acrylic or oil paint.
Bottle is 12oz