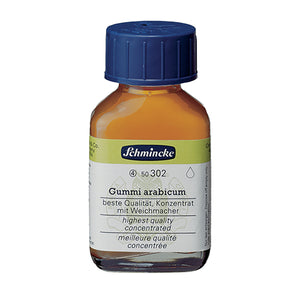 Schmincke Gum Arabic 60ml (concentrated)
Regular price $18.87 $18.87 Sale
Gum Arabic is used as a binder for producing watercolors and gouache. Dilutable with water; dries to a wiping resistant film, but remains water-soluble. Improves adhesion of undercoats when added to Schmincke watercolors and gouaches it increases gloss, transparency and intensity of color.
Shake well before use.
Gum arabic concentrated is ready to use, but can be diluted with water if necessary.
The mixing ratio of binder to pigment very much depends on the type of dyestuff. Our recommendation: Start off with the same amount of binder and pigment, than add binder or pigment until the required consistency. The dried streaks of paint should have a smooth surface and do not come off when rubbed with the dry heel of the hand. The self-mixed colors can be diluted with water if necessary. They are intended to be used as quickly as possible and should only be stored for a few days in screw-top jars.
The product should only be added to watercolors or gouache on a separate palette!
The product is water-mixable and remains water-soluble after getting dry.
Please clean working tools as soon as possible with water or water and soap.
Close immediately after use and store in a cool, dry place.
Protect from frost.
Individual pre-tests are required.