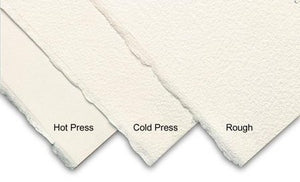 Arches Natural White Watercolor Oversize Sheets - 25.75" x 40"
The highest quality watercolor sheet in traditional natural white color. Cylinder mold made in France of 100% cotton with natural gelatin sizing. Flawless surfaces of cold-press, hot-press with four deckle edges and a watermark. They are acid-free, buffered and contain an anti-microbial agent to help resist mildew. In addition to watercolor, other uses include drawing, calligraphy, gouache, printmaking, and acrylics.
"Elephant" size 25.75 x 40" 156lb cold press and hot press.

Local Delivery Or Curbside Pickup Only - Please Read
This item is only available to be shipped using our courier service. When checking out, please choose "Request A Quote for Same Day Shipping" for your delivery option. We will give you a call to approve the shipping charge.
You can view our shipping rates here.