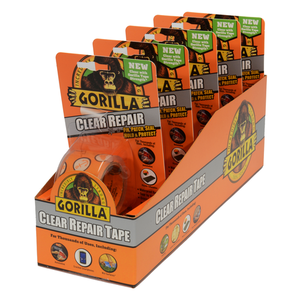 Gorilla Clear Tape 1.5"x 15' Roll
Regular price $9.23 $9.23 Sale
Crystal Clear Gorilla Tape features the adhesive strength of Gorilla Tape, in a crystal clear tape that does not yellow outdoors. Made with a heavy duty adhesive layer and waterproof backing for extreme durability. This tape is UV and temperature resistant - great for projects and repairs both indoors and out. Crystal Clear Gorilla Tape can be applied to wet surfaces and also works under water.
1 Roll Each
 *Long-term extreme heat will cause product to yellow
**Surfaces must be clean, smooth, non-porous, and water must be rubbed/pressed out from underneath tape. Not for use on applications under pressure or on seams. Overlapping tape may cause leaks.