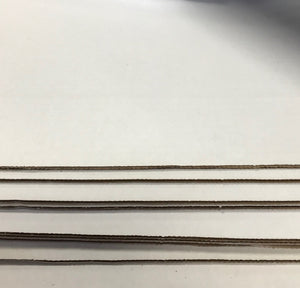 E-Flute (1/16")
Available in kraft or white.
E flute is approximately 1mm to 1.5mm in thickness, providing a very fine flute. This not only gives it excellent compression strength and crush resistance, but also means it provides a high quality surface for printing.
Available in 32x40"
Local Delivery Or Curbside Pickup Only - Please Read
Items 24x36" and larger are only available to be shipped using our courier service. When checking out, please choose "Request A Quote for Same Day Shipping" for your delivery option. We will give you a call to approve the shipping charge.
You can view our shipping rates here.