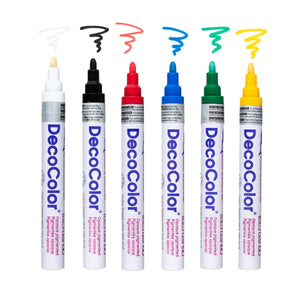 DecoColor Paint Markers, Broad Tip
Opaque paint markers that will fully cover any surface. These oil-based paint markers featuring permanent, lightfast, weatherproof ink that work on most surfaces including wood, paper, glass, metal, porcelain and more. The color will remove or blend with an oil paint solvent.
These markers feature a valve system for the paint inside, so they can be stored any way you'd like.  The caps need to be on tight or the paint could leak out of the marker. Every time you use a DecoColor marker, they need to be shaken in order to mix the paint inside. If the markers are stored upright, you may need to pump the nib a couple times to get the paint flowing evenly to the tip again.
Acid Free
Lightfast
Oil-based
Permanent
Pigmented Ink
Weatherproof