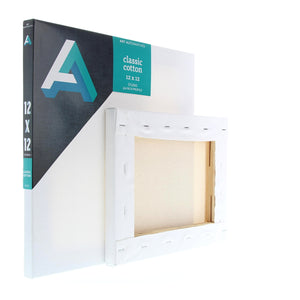 Art Alternatives Classic Cotton Stretched Canvas Studio 3/4" Profile
An all-purpose canvas, Classic Cotton Stretched Canvas is great for traditional painting techniques as well as mixed media, aerosol art, home decor and craft projects and is suitable for use with all acrylic paints, oil paints and other wet or dry media. The unbleached 5 oz cotton duck is primed with acid-free acrylic titanium gesso to a finished weight of 10 oz and stretched around and back-stapled to kiln-dried solid pine stretcher bars. Sizes with a dimension of 24" or longer are braced for additional support.
Studio Canvases have a 3/4" deep profile
Local Delivery Or Curbside Pickup Only - Please Read
Items 24x36" and larger are only available to be shipped using our courier service. When checking out, please choose "Request A Quote for Same Day Shipping" for your delivery option. We will give you a call to approve the shipping charge.
You can view our shipping rates here.