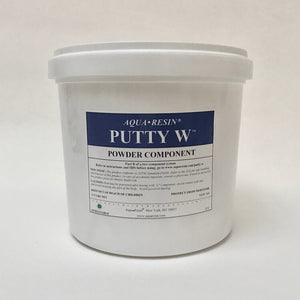 Aqua•Resin Putty W
Regular price $25.07 $25.07 Sale
A great alternative to Bondo!
Putty W™ is a two-component, water-based filler/putty material. Putty W has no penetrating odor, is non-toxic, safe for use indoors and permanent out of doors.
Paired with our Aqua-Resin "L" Liquid component, it can be mixed to the ideal consistency for your project, and is easy to cut and shape while curing. It can be stained, painted and internally colored. It is ideal for sculpting, model making and even for producing heavily impastoed paintings.
It adheres to wood, metal, rigid foam and most plastics. It is compatible with chopped fiberglass or fiberglass mat. It is useful as a wood filler and a sculpting material as well as a replacement for polyester filler putties.
Putty W is permanent in all applications, including exterior use. For long term applications out of doors, an exterior sealer or good quality exterior paint is recommended.
3.7lb