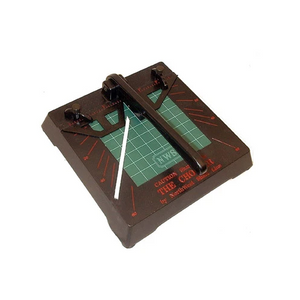 The Chopper II
No sloppy, "fits all", cuts any angle (whether it maintains the angle you want or not) complexity. Use the precision mitre guides to assure accurate angle and repeatability.
Retains the high precision, extremely sharp, inexpensive single edge razor blade as the cutting tool to assure economy, clean cuts from a blade you can find when you need it—at most drug, hardware or paint stores—and can afford to replace as often as necessary for clean, sharp cuts every time. Increase your precision and model making efficiency.
Fits your workspace—only 7"x 7" • Cutting depth of 1/4" maximum
Replaceable cutting mat for cleaner cuts • Diecast aluminum frame, light (under 2 lb.) and strong.  Cuts all model building woods, plastics.  Right-hand or Left-hand operation.
Precision guides for common angles 30, 45, 60 degrees.
Safer, with more accurate repeatability. Rigid handle mount system assures greater accuracy, repeatability of cuts and more safety—no loose handle that can slip or flip into unsafe position exposing cutting blade.
Completely assembled and ready to use. Including installed razor blade.
Caution—very sharp cutting tool (razor blade) Recommended for adult craftsmen or with adult supervision of less experienced users.