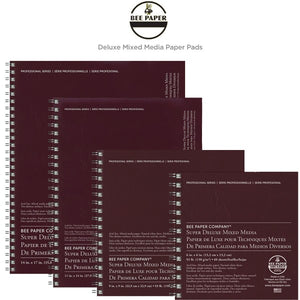 Bee Paper Company Super Deluxe Mixed Media Paper Pads
Nicknamed "The only sketchbook you'll ever need" by customers, the heavyweight 93 lb. (150 gsm) Neutral pH archival quality drawing paper is well-rounded for mixed media. Featuring 25% cotton content, this natural white sheet has two distinct surfaces. The top side of the sheet has tooth for dry media and works well as a cold-pressed watercolor sheet. The bottom side accommodates pen and ink and works well as a hot-pressed sheet for watercolor and other mixed media.
For use with pencil, pen and ink, crayon, chalk, charcoal, pastel, and light washes. The double wire binding creates a flat surface, allowing the artist to draw across the page. The water-resistant cover can be personalized with acrylics to make this sketchbook your own!
Extra heavyweight 100% recycled chipboard back is perfect for field work. This sketchbook is internally and externally sized.
Sizes range from 4 x 6" to 14 x 17" also available in a 36" x 5yd roll