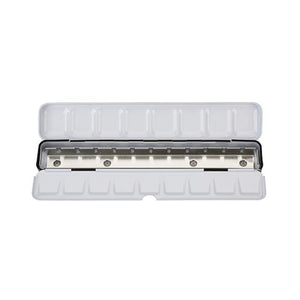 Schmincke Empty Monorail Watercolor Box
We got a hold of some "seconds" from Schmincke.  The boxes may have slight scratches on the exterior surfaces, but allow us to offer a great savings to you.
This empty metal box is ready for you to fill it with 12 half pans or 6 full size pans to create your own curated palette.  Pans are not included.  
This is a great as an alternative travel box, if you are headed to the tropics, pop in some bright hues.  If you are headed to the desert, switch to muted earth tones.
Usually Schmincke boxes have 2 rows for holding pans.  The Monorail is a single row allowing for a slimmer, lighter weight watercolor palette, which is another plus for using for urban sketching or travels abroad.