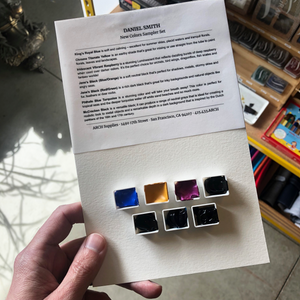 Hand Poured with Love: A 7 Color Half Pan Set of Daniel Smith's New Colors
Regular price $26.00 $26.00 Sale
Our unique collection of half pans includes all 7 of Daniel Smith's newest watercolors, ideal for trying out the latest hues.
King's Royal Blue is soft and calming-excellent for summer skies, placid waters and tranquil florals.
Chrome Titanate Yellow is an earthy shade that's great for mixing or using straight from the tube. Ideal for florals, leaves and landscapes.
Iridescent Vibrant Raspberry is a stunning Luminescent that reflects dazzling bursts of deep raspberry tones when used over darker colors. Perfect for orchids, bird wings, dragonflies, fish scales and embellishing fantasy worlds.
Jane's Black (blue/orange) is a soft neutral black that works for shadows, metals, stormy skies, and angry seas.
Jane's Black (red/green) is a rich dark black that's great for inky backgrounds and natural items like fur, feathers or river rocks.
Phthalo Blue Turquoise will take your breathe away! This color is perfect for tropical seas and the deeper turquoise waters in the ocean.
McCracken Black is a versatile black: it can produce a range of grays that is ideal for creating a realistic look when rendering metal objects and adding remarkable depth in a dark background inspired by the Dutch painters of the 16th & 17th centuries.
Featured in this set:
King's Royal Blue

Chrome Titanate Yellow

Iridescent Vibrant Raspberry
Jane's Black (Blue/Orange)

Jane's Black (Red/Green)

Phthalo Blue Turquoise

McCracken Black